WHAT'S IN A NAME? THE CONNIPTION STORY
Why Conniption? Where did that name come from? Once you've tasted our award-winning gin, you might be wondering where the fun name came from. Ah, the answer is generations in the making.
Let's Make Gin...
Conniption Gin was conceived on a weekend trip through Georgia – roads that, during Prohibition, had been traversed by bootleggers, high-tailing it around hairpin turns in their souped-up Fords. From the mountains to the marshes, many farmers supported their families with the moonshine they churned out of their handmade stills. It was more than a way to turn a buck, it was a time-honored craft, one in which the distillers took great pride.
On the sunny May afternoon of 2013 that Conniption Gin was conceived, Melissa and Lee Katrincic weren't in a high-speed chase, pursued by revenuers. Instead, they were returning to Durham, North Carolina after an anniversary weekend trip to Savannah.
As the miles wore on, Melissa's mind reeled through her successful career. Graduating from Bryn Mawr College, studying astrophysics at The University of Edinburgh, and earning a master's in project management – had led her through a high-powered, twenty-five-year executive trajectory. As head of digital strategy for a pharmaceutical company, Melissa was at a crossroads – continue to pursue escalating roles in the marketing world or take the leap to start something of her own and with hopefully, some semblance of work/life balance. "I never had the mindset of wanting it all but I knew playing it safe wasn't me. I wanted to pursue adventure. I wanted to be there for my boys as they grew and making sure that I didn't regret missing time with them," she knew.
Melissa and Lee tossed a few ideas back and forth about what her next move could be. Lee remembers, "We talked a little bit about launching some type of business. We bounced around a few ideas but weren't really passionate about any of them. Then, just out of seemingly nowhere, Melissa leaned over to me and said, 'Hey, why don't we make gin? Why don't we open a gin distillery?' I just started laughing."
"When we were first married, I was a beer guy. I'd never even tasted gin, but Melissa's family loved gin and their cocktails. They had been drinking it for generations."
"We've always been a martini family" - Jamielee (Melissa's mom)
Melissa's grandparents are the impetus for Conniption Gin and bringing the cocktail hour back into vogue.
"My mother's parents lived just twenty minutes up the road, so we saw them nearly every week. My grandfather Kenneth made a very big production out of cocktail hour. He prepared the sideboard in the dining room with precision, laying out all the instruments – the cocktail shaker, the monogrammed silver ice bucket, the martini glasses (which had been chilling in the freezer all day) the jigger, the mixing spoon, a olives, Vermouth, and even decorative cocktail napkins."
Crushed ice didn't come out of the refrigerator door back then; ice cubes were made in metal trays. Each tray consisted of a rectangular trough which was filled with water and a grid, which was placed in the tray. Once the water froze, Kenneth held the tray on the counter with one hand and pried up the lever on the grid with the other.
After a Herculean effort, there was a resounding crack. Next, he would wrap the cubes in a kitchen towel, tie it tightly, and then give it a good whack with the flat side of a meat tenderizer. Finally, he would spoon the crushed ice into a glass for himself and his lovely wife Gertrude.
For the love of gin-soaked olives . . .
"On the weekends, when we would visit, my 'Bop' (as I called him, pictured left) would always be sure to add at least five olives to his martinis because he knew, I would inevitably sneak many of them. I loved the taste of gin-soaked olives at quite an early age ," Melissa remembers.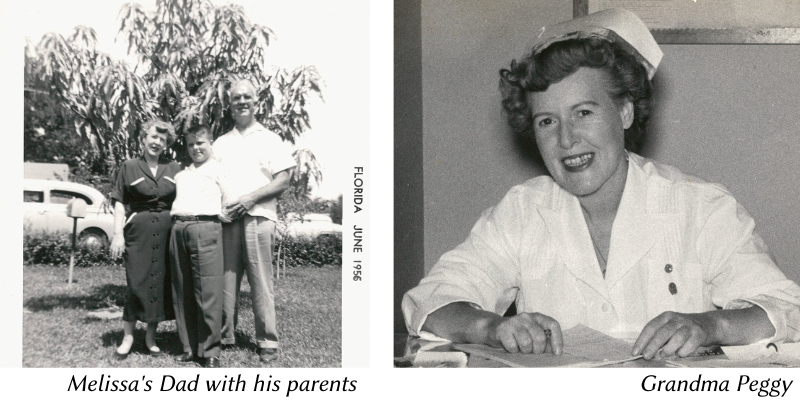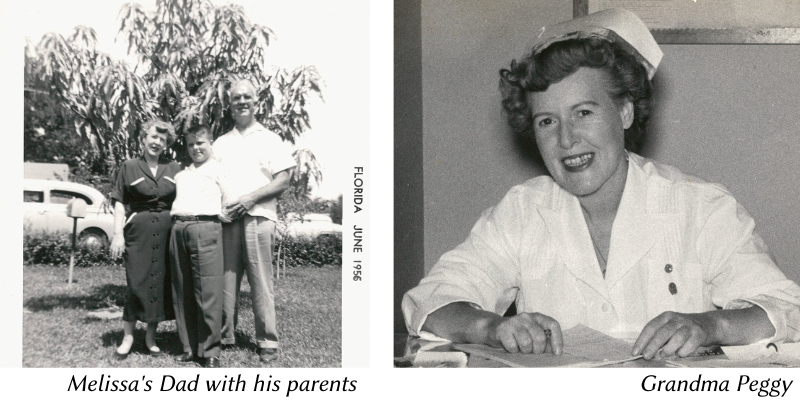 Paternal grandparents Peggy and Daniel had their own ritual as well. Melissa's dad, Bill, recalls, "My father would come home from the office every night and ask my mother, 'So Peggy, are we ready for our martinis?'" It was their nightly ritual, a way to wind down from the day and share the quotidian moments before starting dinner.
With a family tradition as strong as this one, what chance did Lee have?  
"Not long after we met, Melissa introduced me to gin. Every weekend trip we took, we would grab bottles of gin that we couldn't find locally." And the trip to Savannah had been no different. A stop at the American Prohibition Museum included a tasting, followed by scouring the local liquor stores for any new gins they hadn't tried before.
Yeah, but a business?
"As soon as we got home, Melissa started bombarding me with emails and texts about running a craft distillery and how it could really be a viable path for us." Lee was getting hooked. Although he had always assumed he would put in his 30 years in the pharmaceutical industry and then retire, Lee quickly saw how his career as a chemist was the perfect skillset for distilling gin.  
From Inspiration to Reality
While Melissa and Lee held down their full-time jobs and parented their two young sons, they began a year of research, on testing and tasting. They talked to still makers, went to schools, attended seminars, and educated themselves on the vast number of legal requirements for building and running a distillery.
They also approached their new venture like sommeliers, training their palettes on the intricacies of more than 150 gins. At last, it was time for Lee to put on his mad scientist's goggles so they could begin experimenting. He setup his own apparatus and created distillates of more than 50 different botanicals including juniper from several different countries, styles of coriander and angelica root. The kitchen table was covered with hundreds of tiny bottles, shot glasses, and liquid droppers.

Once he and Melissa hit upon what each flavor component was bringing to the party, Lee would back calculate the weights to scale up for when the gin could be distilled on the large, production still. This diligence and wizardry is how the formulas for Conniption American Dry Gin and Conniption Navy Strength Gin came to be.
A Fit of Inspiration
When it finally came time to bottle their new creation and give it a name, Melissa and Lee once again turned to family stories. Everyone got together and ruminated on some of the quaint sayings that were bandied about over the years.
"For cryin' out loud," and "Goodness gracious" were family staples, but when they hit on Grandma Gertrude's ubiquitous "Well don't have a conniption fit, Melissa," well, it just "fit."
The etymology of "conniption" is a bit vague and that adds to its fun. After all, who hasn't heard their favorite aunt or grandmother give them the same admonishment? In other words, "Calm yourself down." To thank Grandma Gertrude for her sentimental contribution, Melissa and Lee named the still at Durham Distillery after her (pictured right). You can take a tour of the distillery and visit her yourself.